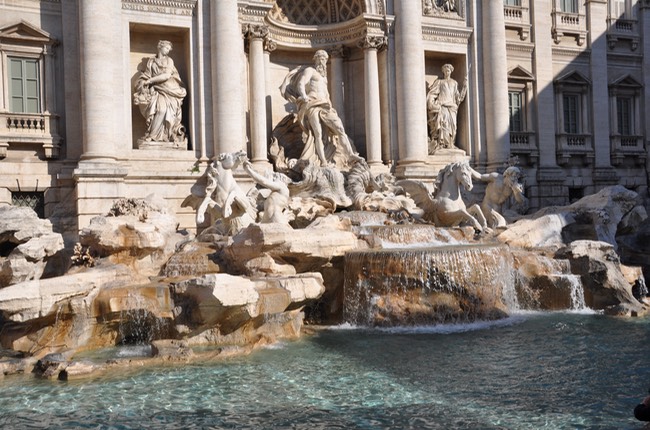 On a spontaneous spring break trip to Rome, we are staying in a charming apartment just a block from the Trevi Fountain. We have been here.  before, but only for brief spells of two or three days, and always in the summer, which is possibly the least advantageous time to visit Rome. We have staggered through the Foro Romano in forty degree temperatures, struggled to sleep at night with inadequate air conditioning, and skipped the Vatican Museum altogether because of the crowds. This week, we are enjoying lovely spring weather, with mostly sunny days and comfortable temperatures. Some evenings, we have even been able to eat dinner on restaurant patios, a treat that we had not expected at this time of year. We have sat outside at caffè-bars in the afternoon, enjoying white wine and snacks.
We are seeing fewer visitors than we have experienced in the summer, but this is not to claim that there are no people here. One of the challenges that we face multiple times each day is that of fighting our way through the crowds around the Trevi to get back to our apartment. From midday on, and particularly in the evening, the tiny piazza around the fountain is jammed with people, much as we remember it in July and August. However, we needn't go far to feel as though we are out of the tourist zones.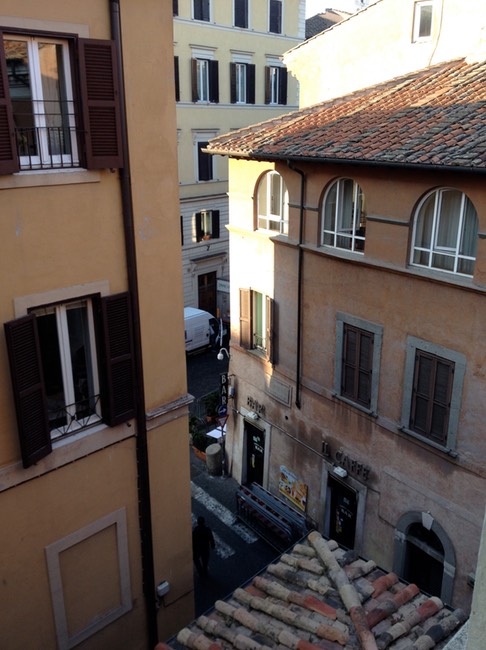 The street on which our apartment lies leads directly to the Trevi Fountain. It is lined with shops catering to the tourist trade, selling souvenirs and postcards and gift items of every kind. It also features, across the street from our apartment, a small bar-caffè. In the morning, we go there for a quick espresso or cappuccino and sometimes a breakfast pastry. In the morning, this little place is seemingly patronized only by Italians. It is not a romantic place with a view or a charming terrace, but simply a bar, crowded at times, filled with Italians downing their morning brew, served by women who are courteous but matter-of-fact. We love it. Each morning, we stand at the bar and imagine that we could almost pass for Italians. This is an amusing fantasy given our beginning-level command of the language, and the fact that my husband is a big man of Dutch ancestry, and our son takes after him in build; we are clearly not Italian.
A couple of blocks past Piazza di Trevi, up the Via Poli, is a supermercato of the Despar chain. This excellent store has all the useful grocery and household items, plus a complete wine section downstairs, and it is open seven days a week. By the time we reach that end of Via Poli, we already feel that we have left the Trevi madness behind, and we stock up on water, yogurt, juice, and other breakfast and snack basics (as well as a few bottles of wine!)
One of the things worth fighting our way past the Trevi for is the wonderful Antico Forno at the beginning of Via delle Muratte. Not only can we get delicious rustic loaves of bread and freshly baked slabs of Roman style pizza from the wood oven, but they have a small grocery store as well, including a deli counter and a wine section. I even bought a corkscrew there ("Souvenir of Antico Forno"), when we discovered on the point of opening the wine that our apartment didn't have one.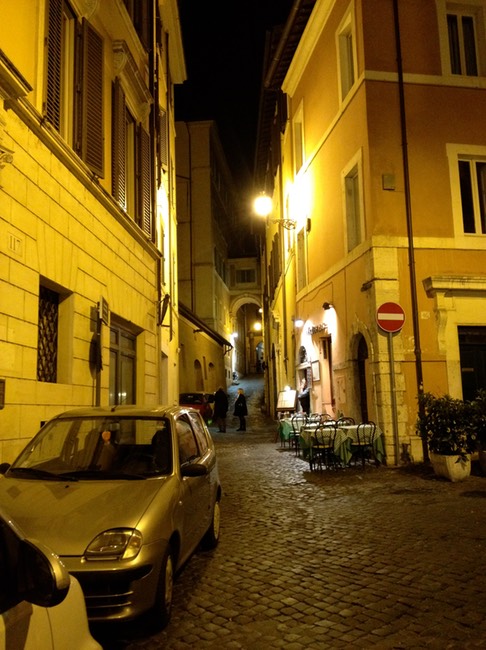 We have been able to find peaceful, pleasant restaurants in the heart of historic Rome, simply by walking up quieter streets that don't boast large terraces or multiple rows of seating. Suddenly, around a bend or corner, we will spot a cluster of tables, and there will be a pleasant-looking pizzeria or trattoria, with a welcoming look and not too much activity around it. The food has always been good, and in some cases, excellent.
We can open our windows in the morning and listen to the sounds of Rome: the raising of metal security doors, the clatter of trucks being unloaded, the sound of footsteps on cobblestones, Italian voices echoing off the high-walled buildings. We tell the time by bells of Santi Vincenzo e Anastasio next to the fountain, which chime the hours and the quarters. Although we are staying steps from what is apparently the single most visited thousand-square-metre space in all of Rome, we are not finding it hard to find space away from the tour groups, and feel as though we are spending time in a real place where people work and live.
Photos: Rome's most famous fountain; unnamed bar-caffè near the Trevi; hidden trattoria