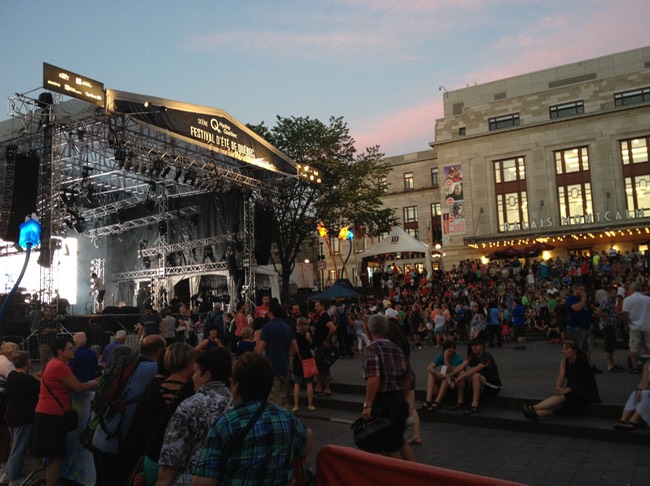 Quebec City, compact, charming, and francophone, is surely unique in North America. It is one of the oldest cities on the continent, and the only fortified city outside of Mexico. As a result, it is the most European experience to be had in Canada or the US. We spent five days there during the height of the Festival d'Eté, when the city was alive with music and street performers, and abuzz with visitors.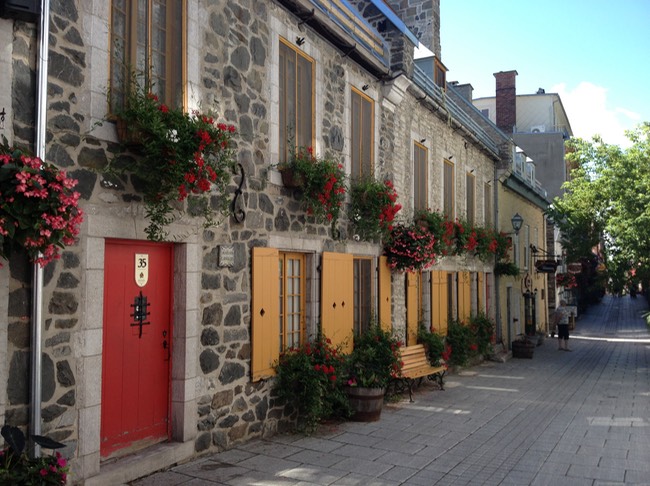 Spread out over a steep hill at the confluence of the Saint Laurence and Saint Charles rivers, its centre is fascinatingly complex. Vieux Quebec, where visitors spend most of their time, includes the ancient walls of what was once the upper city, and the lower city, a collection of winding streets between the walls and the river. Steep staircases, winding switchback roads, and a popular funicular move people between the two. The neighbourhood is dominated by cobblestones, charming unexpected squares, and narrow streets that wind their way up and down the steep hills. A highlight is rue Saint-Pierre, that winds through the lower town, affording views of gorgeous old stone buildings and providing a sense of age not often found in North America. Place Royale is another such corner, absolutely picturesque and charming.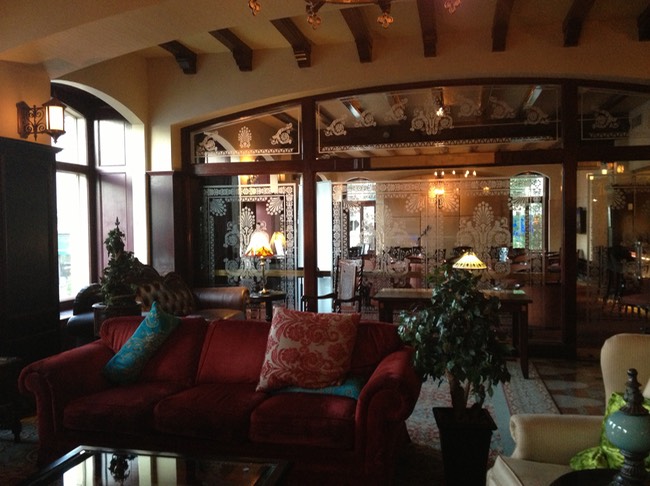 Delightfully, we stayed at the Hotel Clarendon, an historic building that claims to be the oldest purpose-built hotel in Canada. It boasts a serious art deco lobby ornamented with amazing stone and glasswork, and furnished in fat comfortable sofas, where we sat for awhile listening to vintage jazz while we waited for check-in time. Our room was on the top floor in the corner, with stunning views over Old Quebec. Chateau Frontenac rose up outside one of our windows, the harbour spread out beneath another. In the evening, the flood-lit chateau dominated our view, and we could watch the son et lumiere show being projected on the waterfront.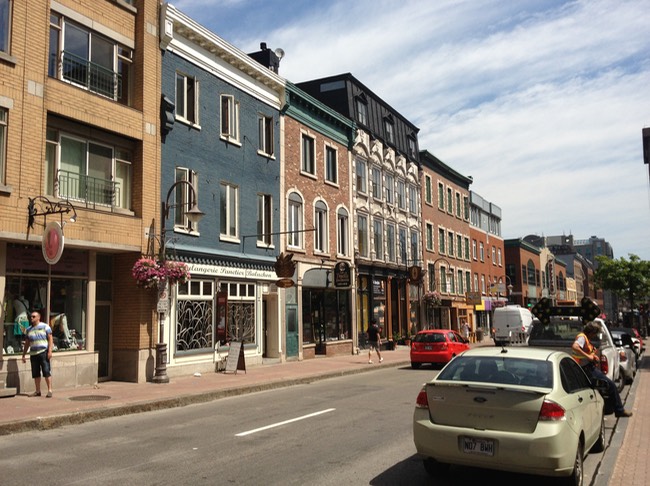 In our daily wanderings, we discovered a city of contrasts. Most tourist activity centres on the old city and the Plains of Abraham, a lovely park which was the site of one of Canada's most famed battles. But there is also great charm to be found outside the walls. The popular Grand Allee is lined with sidewalk cafés and restaurants such as one finds in central Paris; it is very lively, but we preferred rue Saint-Joseph in the university district of Saint Roch. This street, home to excellent coffee, bakeries, and ethnic restaurants, was the heart of a working class nieghbourhood that was at one time covered with a roof and made into a shopping mall. It is now free and funky, fun for walking, shopping, and eating. We enjoyed both rue Cartier, with its contemporary shops and restaurants, and rue Saint-Jean, which winds its way out of the walled city and through the new town, lined with picturesque buildings housing charming shops and restaurants.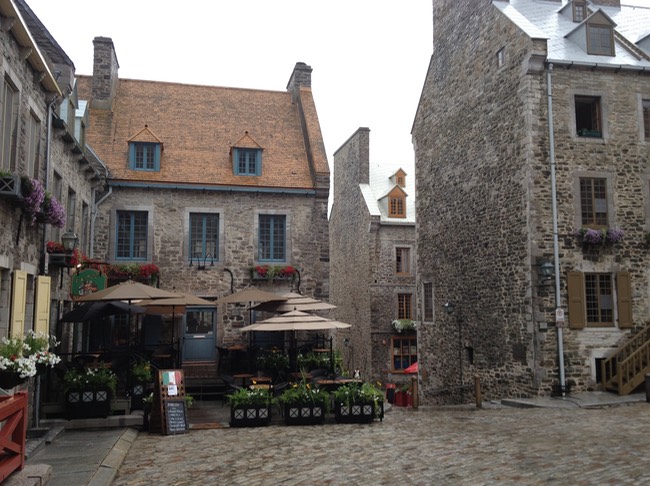 We had a variety of excellent food experiences during our stay. On our first night, we enjoyed ourselves at a touristy but pleasant creperie on rue Saint-Jean, where the cider was French-style, dry and fizzy, and we quaffed a litre with out trying hard.  The best was probably our dinner at Bistro Sous le Fort, a charming French-style restaurant situated partway down the hill into the lower town. Vegetarian options aren't always easy to find in traditional Quebecois establishments, but this one had several, along with delightful décor and charming staff. As was usual throughout our trip to Quebec, we relied on Italian restaurants for many of our meals, including La Pizz, an Italian restaurant that capitalized on the hilly nature of Vieux Quebec by occupying two levels, with its upper patio facing onto Place Royale, and a lower one on rue Saint-Pierre. We also had lunch at Trattoria di Sant' Angelo down in the lower town, situated in a lovely corner of a side street, where I had a divine penne with mushrooms, sun dried tomatoes, cognac, and cream. We had brasserie food at the Café d'Orsay outside our hotel, a charming place with yellow awnings and window boxes of pink flowers, where we sat at a booth in a wide open window, watching the passersby.
For fans of French patisserie, breakfasts are also delightful. One highlight was a wonderful little café down the hill toward the port, where an enthusiastic young man made us excellent cappuccinos and a beautiful iced latte, and we had delicious croissants with butter and raspberry jam. We also found excellent pastries (as well as great espresso) in the Saint-Roch neighbourhood outside the walls. The covered market near the waterfront was a source of wonderful goat cheese and other goodies (including craft-made maple syrup).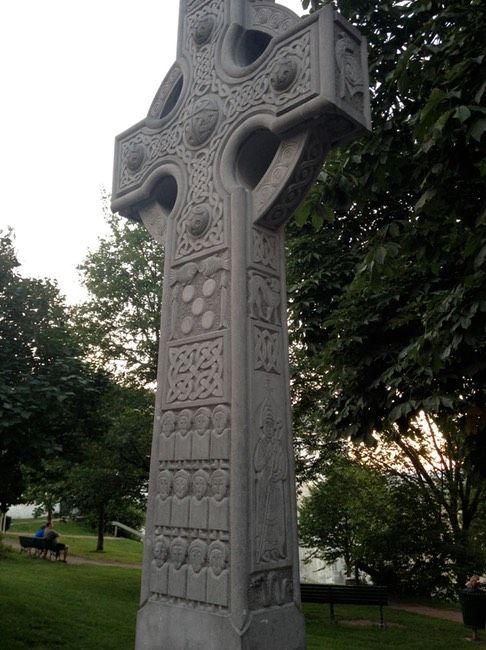 There were pleasant surprises during our stay. We enjoyed the charming Museum of Civilization, with a permanent exhibit on the history of the people of Quebec, and various temporary exhibits on different aspects of culture and civilization. At the Musee des Beaux Arts, we enjoyed art of the Inuit and early Quebecois. Walking along the edges of the old city, we discovered the peaceful Artillery Park, with its unexpected and gorgeous Celtic cross, that we saw looming in the light of sunset. One morning we took a long walk along the waterfront, following a very lovely bike path/pedestrian route through the old port and then along the Boulevard Champlain, where we unexpectedly ended up below the Plains of Abraham at Cap Blanc, where two rows of old houses line the quiet rue Champlain, and there is a park with pool and playground. This old community dates from the nineteenth century, when sailors and shipbuilders populated this picturesque little community. 
We spent a divinely perfect five days in this atmospheric and endlessly fascinating Canadian city. It perfectly satisfied our yearning for Europe, while being uniquely itself: not French, but Quebecois. 
Photos: Basse Ville; Place d'Youville; rue Saint-Pierre; Hotel Clarendon; rue Saint-Jean; Place Royale; Artillery Park; rue Champlain