Our March break trip to Paris saw many kinds of weather, entirely predictable for the time of year. But one day in particular felt more like May than March, and we spent it wandering through the Belleville neighbourhood. This area near to the eastern border of Paris is not generally well known to tourists, as it lacks an obvious tourist destination such as Montmartre in the neighbouring eighteenth arrondissement, or the Père Lachaise Cemetary in the twentieth. But we left our apartment by the Canal Saint Martin, anxious to enjoy the beautiful day, and crossed one of the many small bridges to the quiet streets beyond.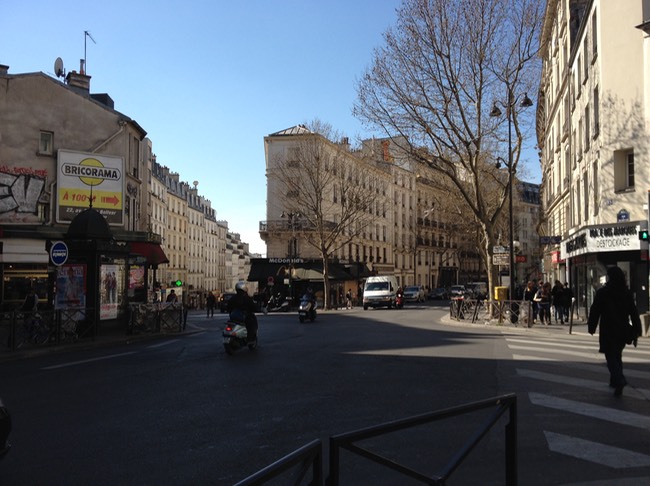 The quiet only lasted until we had passed through the area around the Hôpital Saint-Louis and reached the cobblestoned rue du Faubourg du Temple. This bustling street is a charming mashup of crèpes and kebabs, boulangeries and ethnic grocers, fashion bargains and dollar stores. Arabic and Chinese characters are mixed in with the French on awnings and signs. The narrow cobbled street ends when it reaches the tree-lined Boulevard Villette, but its continuation, rue de Belleville, has a similar feel. Here, Chinese characters dominate the signage, and shops with produce impressively stacked in perfect pyramids are mixed in with the cafés and clothings stores that line the street, which straddles the boundary between the nineteenth and twentieth arrondissements.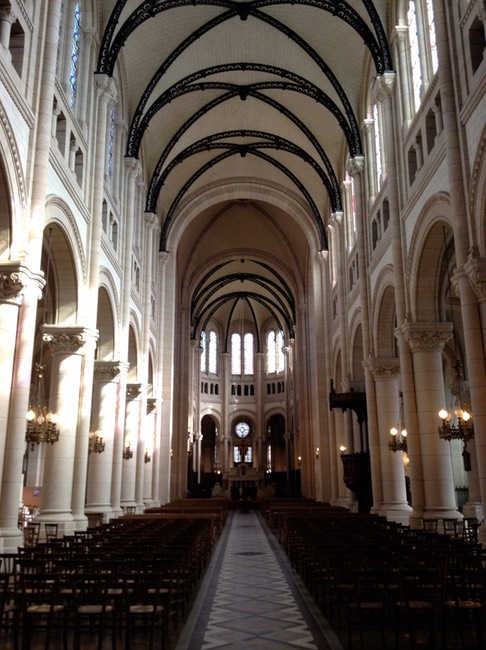 Eventually, we turned south into the twentieth and through the hilly Parc de Belleville to discover a beautiful view over Paris, with the Eiffel Tower in the distance. On the other side of the park is the Ménilmont neighbourhood, where we visited the nineteenth-century neo-romanesque church of Notre-Dame de la Croix. This lovely big church stands impressively at the top of a grand staircase, and its long, elegantly arched nave and beautiful organ are as lovely as many of the more famous churches in the centre of the city.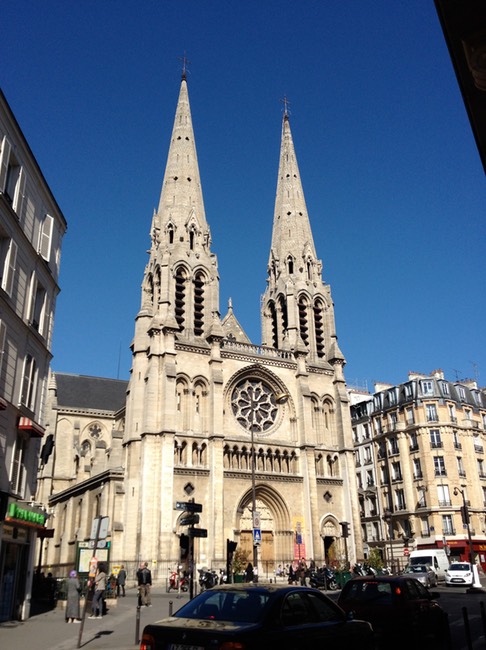 Back on the rue de Belleville, we came to an intersection surrounded by the typical six-storey apartment buildings seen all over Paris, cream-coloured stone with black wrought iron balconies. At one corner, standing tall and brilliant in the bright sunlight, stood the mid-nineteenth century neo-Gothic church of Saint-Jean-Baptiste de Belleville. From here, we made our way through the nineteenth arondissement, into the amazing little neighbourhood of Butte-Chaumont, a village of tiny streets and nineteenth century townhouses with little gardens. It was an anti-Paris. 
And then we popped out on the other end at the Parc des Butte-Chaumont. Sprawling down the hill, beautifully landscaped in 19th-century English style, with a big lake at the bottom, and a hill with a miniature folly, like a ruined tower, perched on top. It was very peaceful. We wandered from the top of the hill to the bottom, looking at vistas and taking pictures. When we walked out and back toward the canal, it was like coming back into another world. 
Photos:  View from the Parc de Belleville; rue de Belleville; Notre-Dame de la Croix; Saint-Jean-Baptiste de Belleville; townhouses in the 19th arrondissement; Parc des Butte-Chaumont