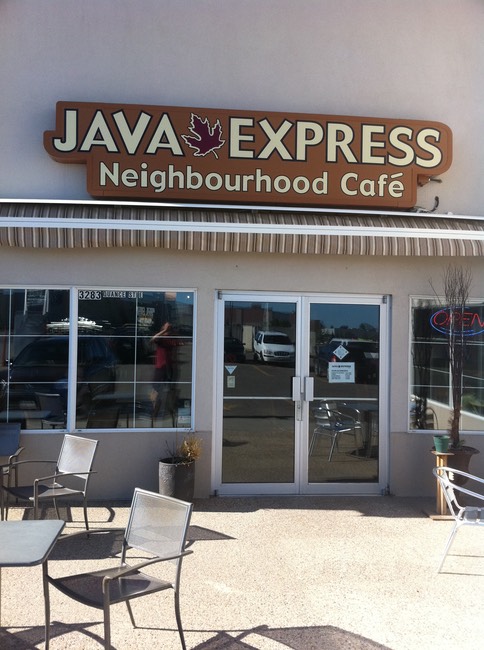 On our drive across the continent, we learned many things about our country. The centre of the universe is not in fact in Toronto, but in Winnipeg (or at least, that is the longitudinal centre of the continent). Every province in Canada produces craft beer. There is no place anything like southern Ontario anywhere else in the country. And our plan to drink a cappuccino every day of our journey was not as simple as we had thought. 
Armed with i-technology, we were prepared to do some research to find the interesting places, the character joints, and the really fine local experiences in the coffee department, everywhere we went. We looked up destinations as well as places we were just passing through, and used our techno-ingenuity to figure out where we had to go for a good espresso-based beverage. We had some excellent successes, some startling failures, and various experiences falling somewhere between the two.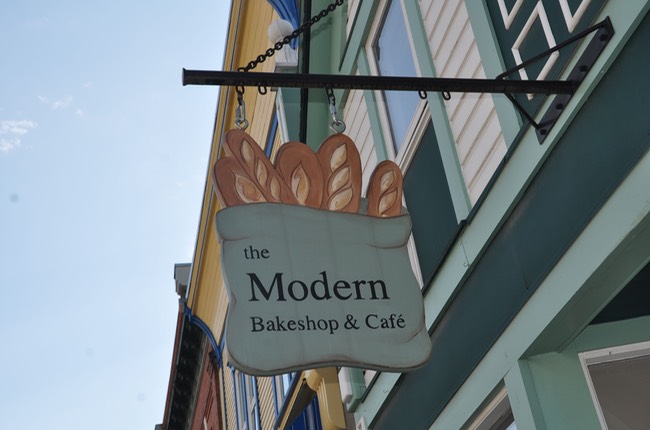 Our first coffee of the trip was actually provided for us in a large thermos by our good friend and barista, Mario, whose little Italian café is a popular spot in our neighbourhood. We drank these lattes at a picnic table in Lytton, B.C., overlooking the Fraser and Thompson Rivers and the striking mountains of the Fraser Canyon. But by the next morning, in Revelstoke, we were ready for something fresh, preferably with pastries. We found these in downtown Revelstoke, at the Modern Cafe and Bakeshop, where we listened to the busking of a banjo player and admired the surrounding mountains. We were pleasantly surprised at the excellence of the cappuccino, and hoped that it augured good things to come.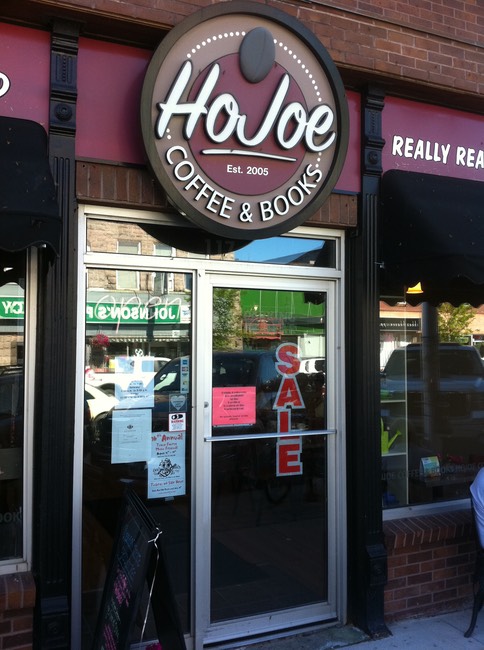 However, it must be admitted that across the prairies, the cafés were oddly missing. We drove through Saskatchewan on Sunday, and the café that we sought in Swift Current was closed; by the time we reached Moose Jaw, the café had just closed, along with most of Moose Jaw. In Brandon, Manitoba, the excellent-sounding café that I had researched no longer existed, although the shadow of its signage could still be made out above the door. Once in Winnipeg, the options were greater. We had breakfast at a little place with an outdoor patio, called Twist, pleasant but not outstanding. We tried the Fyxx Espresso Bar later in the day, and found that for us, the coffee did not live up to the hype.
Across the Ontario border in Kenora, we found HoJoe, a "Vancouver-style café in northern Ontario". Their coffee was in fact similar to that of a typical west coast chain coffee house. Throughout much of small town Ontario, we found ourselves resorting to the new cappuccino offerings of the ubiquitous Tim Horton's. They were okay as a coffee fix but not much more; while my husband drank them, my son preferred the smoothies, and I stuck with tea. But Timmy's was everywhere in Ontario; some places, when we attempted to find cafés on our map app, only brought up Horton's; in Thunder Bay, in the area near our hotel alone, there were seven. You can't really understand the absolute Canadianness of Tim Horton's until you have driven through Ontario.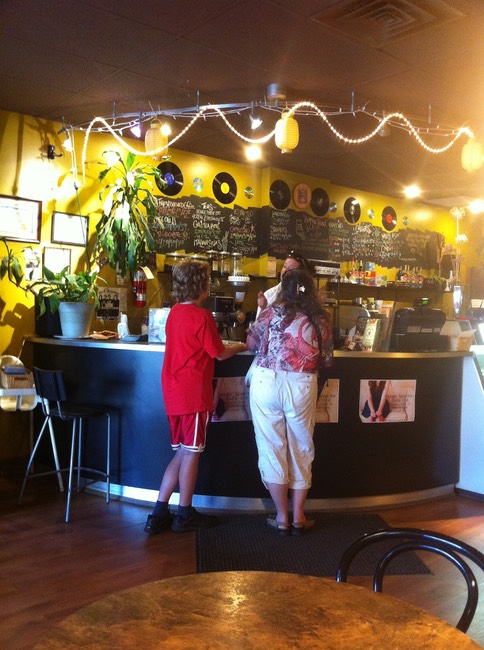 Timmy's aside, we went from the lows to the highs in Ontario. The low was the café in White River that offered cappuccino with a choice: made with espresso or with drip coffee. We opted for espresso; I'm not sure that it mattered. The high was the charming Café Olé in Pembroke, where the friendly owner, Christine, has decorated the walls with the covers from old vinyl records. We were lucky enough to be in on a Saturday morning, when she plays the records; the coffee was great as well!
Of course, Toronto and Montreal have excellent coffee, and we found some of our best in Québec City. At Café Le Nektar, we found serious gourmet espresso, with beans from several sources, including our own favourite from Vancouver, the outstanding 49th Parallel. There was also the bonus of delicious croissants and other French patisserie. In Toronto, we stopped late at a tiny café so that our son could use the washroom, and had an espresso affumato made by an Asian man from France, who said that our road trip would be like driving from Paris to Russia. People everywhere are quite impressed by our adventure. We also, for a change, went to the outstanding Soma, house of amazing hot chocolate, and had thick, intense chocolate drinks (literally espresso-style chocolate), made from the mixes that they grind themselves.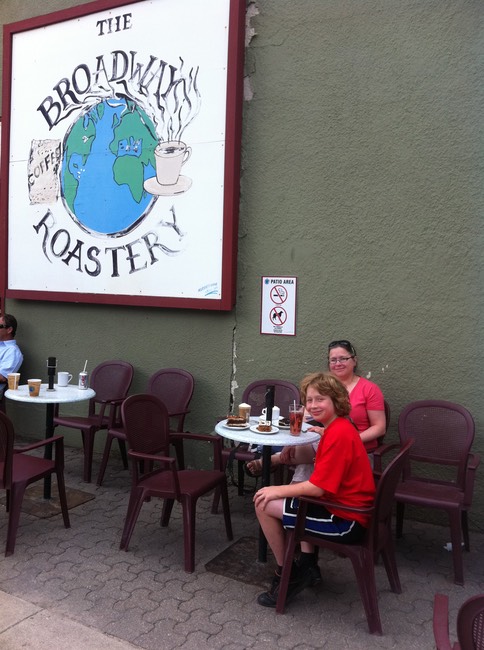 We enjoyed nice ambience and good drinks at the Mad Hatter Café in downtown Parry Sound, the Inn Thyme Auberge and Coffee House in Shediac, and Tony's Pastries in Moncton, where we sat on a quiet patio looking across the road toward trees and a distant baseball park. At Sault Sainte Marie we pulled off the highway for gas and a stop at the Steamy Bean Coffee Company, which had big comfy chairs, solid cappuccinos, and Italian soda. In Saskatoon, there was a great café, Broadway Roasters, where we enjoyed excellent cappuccino and treats. (Thank you to the nice woman at the Saskatchewan Tourist Centre who recommended it!) Tied with Lytton for the most beautiful setting for a cuppuccino was Peggy's Cove, Nova Scotia, where we bought to-go drinks from the tourist café and enjoyed them on the rocks, with the turbulent Atlantic waters crashing all around us, and the famous lighthouse off to our right. 
Back in the shadow of the Rockies, we enjoyed the rustic atmosphere of Cochrane Coffee Traders in Cochrane, Alberta, who roast their own coffee. We also tried Java Jamboree, a place more along the lines of Le Nektar, where they feature beans from several different roasters, again including 49th Parallel. And after an all-day drive that found us back in Vancouver, we were happy to return to Mario's to have iced cappuccino and tell him about Canada from a bean's-eye view.
Photos: Java Express in Regina; the Modern Café in Revelstoke; HoJoe, Café and bookstore in Kenora; Café Olé! in Pembroke; Broadway Roastery in Saskatoon; takeaway in Peggy's Cove