One of our favourite family getaways is across the water to southern Vancouver Island, where we are fortunate to have friends and relatives sprinkled throughout the Victoria area. This is a lovely city of unique neighbourhoods and rural communities, all linked together by the natural beauty of the west coast. Here, we stroll along rocky beaches, where our son scavenges for stones and shells, and we inhale the strong salt air from the sea. We walk through the groves of gnarled Garry oaks and towering Douglas firs, and delight in the unique beauty of the red-barked Arbutus trees. In this sunshiny strip of micro-climate, it is dryer and often a few degrees warmer than the area slightly to the north. We come to Victoria and find the trees in blossom a week or two earlier and the bulbs flowering sooner.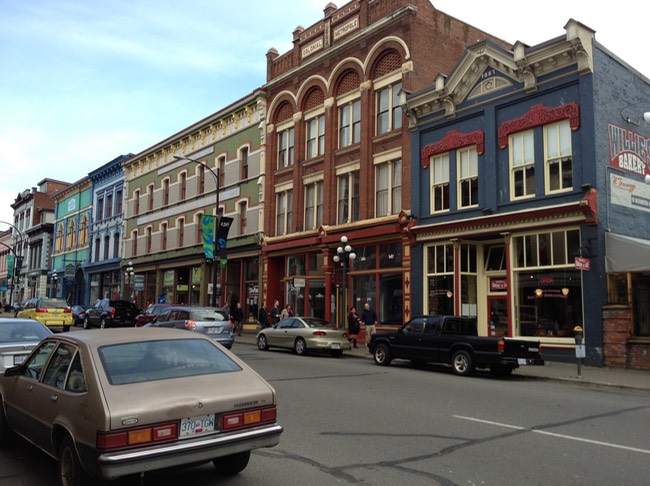 There is a comfortingly liveable scale to the city: one can drive from the farm-and-forest suburbs into the heart of the city in a remarkably short time. When we want to enjoy a taste of urban charm, we go downtown, to admire Victoria's lovely historic buildings and stroll along its famed inner harbour. There are numerous family attractions, restaurants, and pubs for those so-inclined, as well as shopping (either of the window or credit card variety!).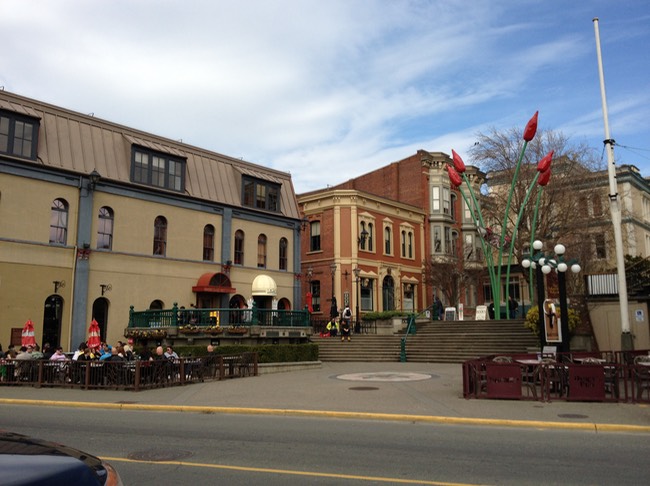 Tea at the renowned Empress Hotel is popular with tourists, but we prefer the charm of a quirky café or a patio table in a sunny square. We do enjoy the indulgence of a treat at Victoria's own Rogers' Chocolates, and walk through Canada's oldest Chinatown.
Meanwhile, nature beckons: parks and gardens, woodland strolls, and of course, the ocean, surrounding the city and permeating it in a series of bays and inlets lined with beaches and walkways. The coastal environment is pervasive, whether you are looking for a stroll along one of the city's numerous marinas, summer fun at a sandy beach, or a tidal pool exploration on a rocky shoreline. We love them all!
Photos: a glowing sailboat in the Strait of Georgia; Mount Baker on the horizon; historic buildings along Johnson Street; funky Bastion Square; boy and dog on the shore