Our recollections of Inuvik from our stay twenty years ago include camping in the snow (despite visiting in June!), the strange sight of the midnight sun as it dips down toward the horizon and circles back up again, and a distinct lack of any food for vegetarians (fortunately, we still ate fish in those days, so we dined out on Arctic char and fish and chips). There were, I believe, only two hotels; one of them, the Eskimo Inn, provided us with a bed for the one night we could afford, as well as a nice dinner (it was our first wedding anniversary).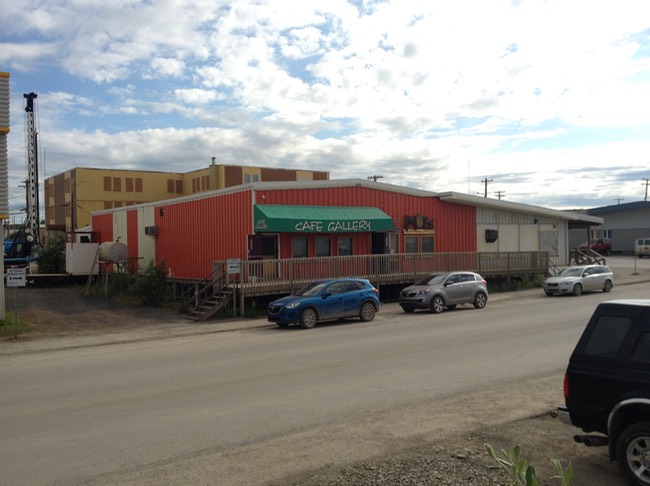 Nowadays, there are a few more amenities. We stayed in a newish hotel designed for corporate clients, with a kitchenette so that we could cook our meals, and air conditioning because this time around, the weather was more typical for the time of year. We shopped at a sizeable grocery store, where we were able to get the fixings for pasta and bean burritos. There is now a beautiful visitor centre, built not long after our last visit, where we were able to get information about local artists and things to do and see. There is also a great café, run by really lovely people, where you can get espresso and chai drinks, smoothies, and great breakfast treats in a nice atmosphere.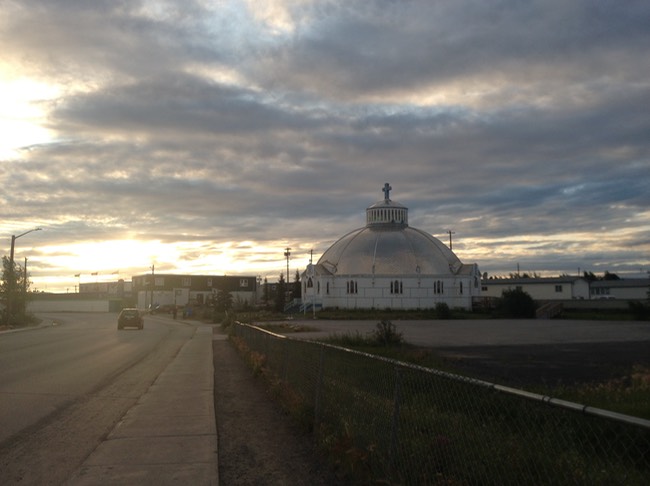 However, there is still the unique Igloo Church, and the Arctic Esso, and the brightly-coloured houses set up on stilts above the permafrost. The sewers and water pipes run above ground, a network of metal running behind and alongside the buildings. There is still the midnight sun, and the sight of young kids out playing on scooters at one in the morning. 
And there are still the friendly and interesting people living in this Arctic frontier town. The residents are Inuit, white, and Gwich'in, with a scattering of others (including a small but growing Muslim community). We encountered people of all ages and characters in the liquor store (picking up a wide variety of purchases!), all ready with a nod or a hello. The people in the little shops we visited, in the tourist centre, and in the café, were all very welcoming. We were happy to be able to spend some money in their community and get to know 21st-century Inuvik, which feels somewhat more modern than the last time we visited, but with the essential character unchanged: part frontier town and part small town anywhere.
Photos: McKenzie Road, Inuvik's main street; historic welcome sign; café downtown; Igloo Church at midnight; raised houses (Photos 1,5 B. Wilkes; photo 2 N. Wilkes)