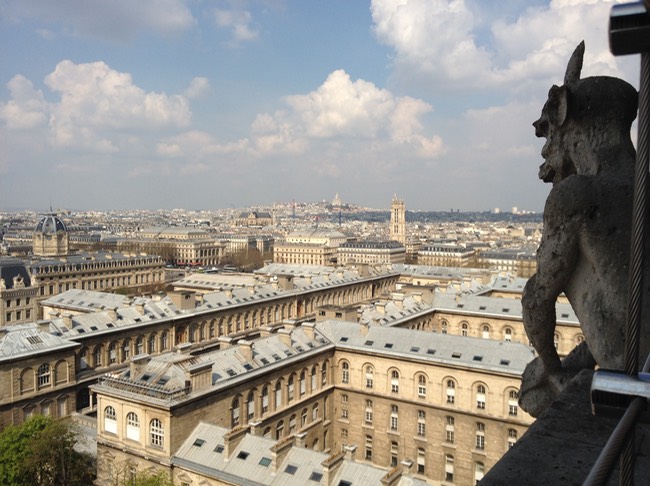 On our recent visit to Paris, we did the unthinkable– we stayed for ten days without visiting any art museums. We didn't set out on the trip with this as a goal, although we had planned to be selective in our choices. But for various reasons, the slender number of art museums that we had planned on seeing dwindled to none. 
However, by no means was our visit devoid of culture. We did visit a couple of popular tourist sites, as well as many less famous ones, and felt that in some ways, we had made out well on the exchange. Our trip to Versailles was enjoyable despite the crowds, inasmuch as on three previous visits to Paris we had not yet been. And at Notre-Dame Cathedral, a favourite of mine of every visit, we lined up to climb the towers, something we had never done before; afterward, we all agreed that it was well worth doing.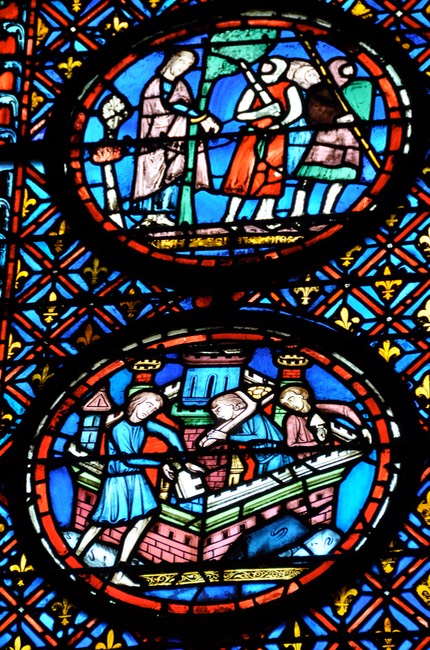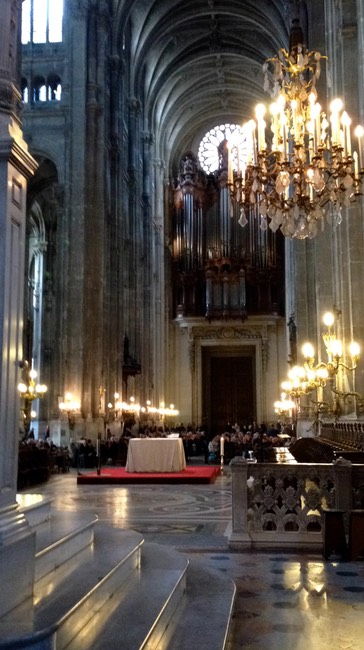 But Paris is full of interesting old churches, many of them unseen by tourists, and we visited a number of these. Sainte-Chapelle is famous, and well known in all the guide books, but we found no real lineup there, and had an amazing experience. The gorgeous windows would have rewarded a much longer wait. I took picture after picture until I realized that I could do that forever and never really be done! They have been cleaning and restoring it, and you could really see the difference in the ones that have been done. It is lovely and bright, and incredibly detailed. It also had the greatest gift shop ever, full of medieval stuff. 
Down the rue de Turenne from the Place de la République, we stopped at a lovely 19th-century church, Eglise Saint-Denis, built in a classical style, very clean and bright, and oh so peaceful. I went inside the Eglise Saint Médard at the bottom of rue Mouffetard, a great mishmash of centuries and psuedo-Gothic style. 
Being musicians, we had planned on attending some concerts, but again, for various reasons, didn't end up in any concert halls. But we walked through the church of Saint-Germain-des-Près, such a great old building, not pretentious but just big and old, with a lovely organ that was being practised upon when we went in. At Saint-Eustache, we were able to hear a recital of Mozart and Bach on the beautiful big organ.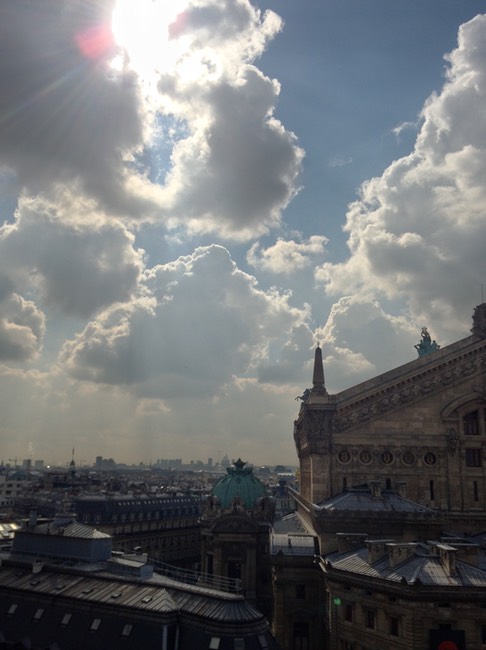 Instead of dedicating the time needed to line up and ascend the Eiffel Tower, we enjoyed a lovely view from behind, where there is a little park and a pond. It was quite peaceful, and in some ways more interesting than the more famous view from the Champs de Mars. Instead of the tower, we went up onto the roof of the Galeries Lafayette department store, where you can see an amazing panorama of Paris, completely free and unbothered by more than a moderate number of people.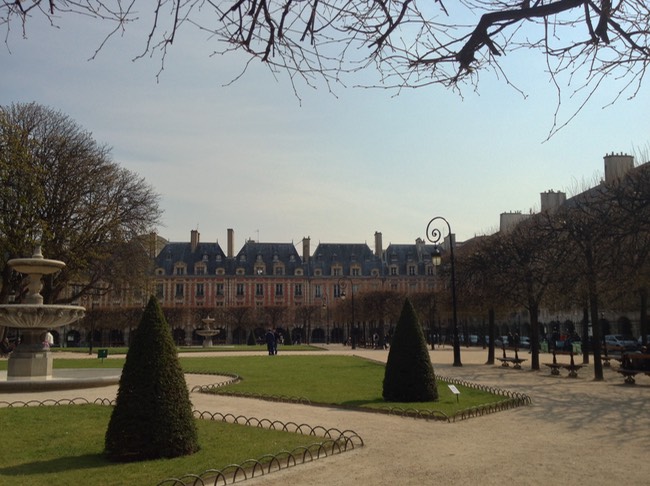 We didn't walk in either the manicured paths of the Jardin de Luxembourg or the wilder spaces of the Bois de Vincennes. But we strolled through the ever-beautiful Place des Vosges in the Marais. I never tire of going there, it is such a little piece of design perfection, with the 17th-century buildings and their arcades, and the lovely balance of the park itself. We were amused by the building at one corner, which was under restoration, and had been covered with a canvas façade that perfectly replicated the rest of the row, except for the massive iPhone ad covering part of it! We also discovered the absolutely delightful Parc aux Buttes-Chaumont, a beautifully landscaped 19th-century park sprawled over a large hill, with a big lake at the bottom.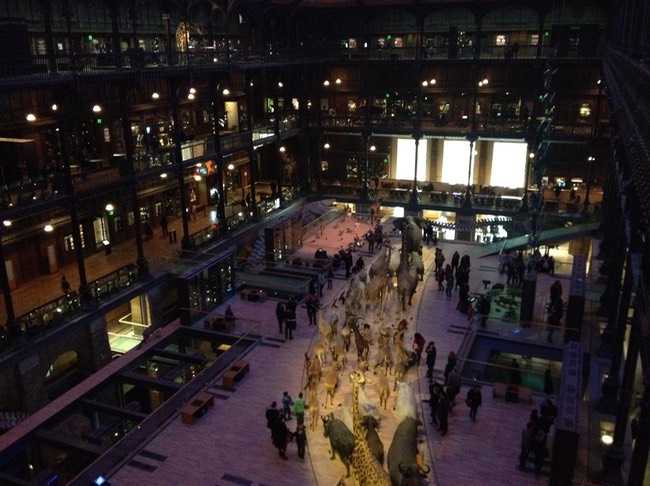 We did visit one museum, the natural history museum at the Jardin des Plantes. This proved to be like the Louvre of natural history museums, with several wings and more to see than we would want to do in one visit. We went to the hall of evolution, which was an astonishing display over several stories, all like mezzanines wrapped around a giant hall. It was a remarkably complete exhibit which collected apparently different things together to show their commonality.
So, in keeping with our plan to see more of the lesser-known Paris on this trip, our visit, while missing out on Monet, Picasso, or Rodin, was far from lacking in culture or beauty. Next time, we will work some of those lovely spots back into the itinerary, but on this occasion, they were, surprisingly, not really missed. 
Photos: Parc aux Buttes-Chaumont; view from Notre-Dame toward Montmartre; window in Sainte-Chapelle; organ recital at Saint-Eustache; Eglise Saint-Denis; view past the Opéra from Galeries Lafayette; Place des Vosges; natural history museum; behind the Eiffel Tower